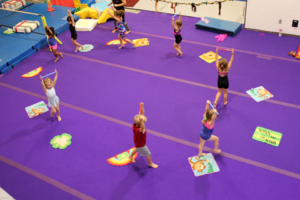 LIL MONKEY 3

This class is open to children 3 – 4 years of age. This is a structured, 45-minute class introducing basic gymnastics, coordination, and gross motor development. Colors, numbers, and shapes are also incorporated to reinforce pre-school learning concepts.
Drop-off and Pick-up: 

Parents are welcome to drop-off for class if your child is comfortable but must be present for pick-up at the end of class.
Student Attire: 

A one-piece leotard or comfortable clothing, including shorts and t-shirt long enough to be tucked in. No loose clothing, dresses, or clothing with strings, zippers, snaps, or buttons. Hair must be pulled back out of face and bare feet only on gym floor.