Bayshore Elite Gymnastics is now home to our newest program,
BAYSHORE ELITE CHEER!
Bayshore Elite Gymnastics, Redwood City and Silicon Valley Elite Cheer, San Mateo are pleased to announce their new working-partnership in Cheer! This new cheer program opens with coaching support from one of the community's most well-known Cheer Gyms, SILICON VALLEY ELITE CHEER! Bayshore Elite Gymnastics now offers both Youth. (ages 7-10 years) and Jr./Sr. (ages 11-17 years) level Recreational Cheer classes as well as Competitive All-Star Cheer Teams competing the Novice and Prep levels. Novice, Prep, and upper level competitive cheer training is also offered at Silicon Valley Elite Cheer located in San Mateo. Both programs offer instruction by highly-trained recreational, competitive, and elite level coaches in both gymnastics and cheer.
For more information about any of our cheer programs, please feel free to contact Bayshore Elite Gymnastics at cheer@bayshoreelite.com or Silicon Valley Elite Cheer at info@svecheer.com. Recreational cheer classes are for students who would like to learn or improve their stunting, tumbling, jumps, and dance in a recreational environment. Recreational and All-Star classes will run at the same time on Saturdays.
We are also excited to offer a 50-minute cheer tumbling class for athletes ages 7 - 17 looking to learn or improve their cheer specific tumbling skills.
This year, Bayshore Elite is also offering a 3-day Summer Cheer Camp in July. Check it out!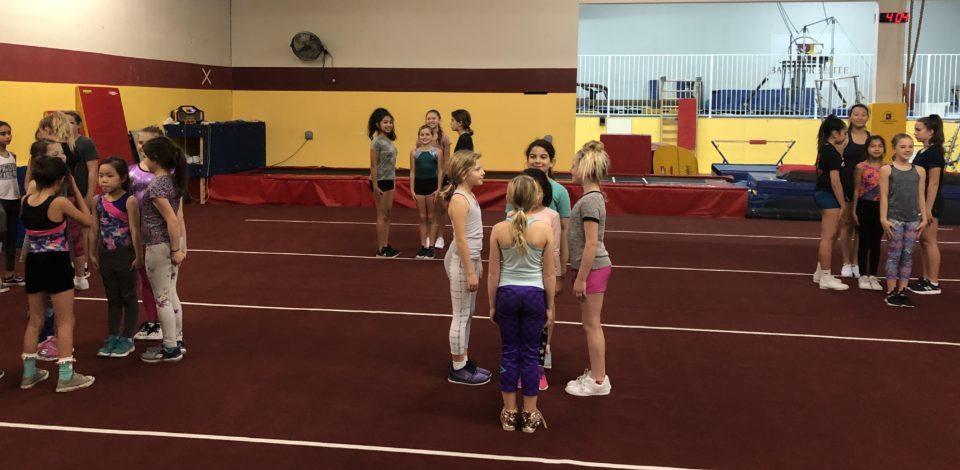 Our All-Star Cheer Squad is a competitive team and requires an evaluation by a Bayshore Elite Cheer director prior to registration. Athletes practice 3 hours a week and will have opportunities to perform and compete locally.
Please contact our cheer program directors if you have any questions.
Cheer Program Directors
Katie O'Toole or Briana Whitney
650-365-4700 or email cheer@bayshoreelite.com
Recreational Cheer Classes:
Cheer Tumbling
(ages 7 - 17)
Saturday
1:00 - 1:50 pm
Tuition: $106/month
Cheer 101 Youth
(ages 7 - 11)
Saturday
4:30 - 6:00 pm
Tuition: $168/month
Cheer 101 Jr. / Sr.



(ages 11 - 17)
Saturday
6:00 - 7:30 pm
Tuition: $168/month
All-Star Cheer Class:
Saturday
4:30 - 7:30 pm
(evaluation needed)
Tuition: $235/month
*Recreational and All-Star cheer classes will run at the same time.*
Classes begin February 2, 2019.