2017 Summer Camps
(Middlefield Gym)
Come flip through

SUMMER!!!
Bayshore Elite offers weekly summer camps June 12th-August 11th for both boys and girls ages 5-13. For 7 years now, our campers have enjoyed learning new and perfecting old gymnastics skills while creating fun art & crafts based on weekly themes!
Each week of camp at Bayshore Elite Gymnastics offers five fun filled days of gymnastics, crafts, outdoor play, team building, and many memories.  
Friday

is our special Show Off Day.  Parents are invited to watch their camper show off what they have learned at

2:30pm

!
ALL campers will need a packed lunch and 2 snacks.
Children MUST be enrolled in camp in order to attend Aftercare.



NO camps the weeks of:
June 19-23th 
July 4-8th
*Refund & Make-Up Policy: No refunds, make-ups or credits given for any cancelled or missed camp days.
** Existing Roosevelt clients, please register for a Middlefield Camp as a new client or e-mail info@bayshoreelite.com.
***Camps are also available for reservation through Redwood City Parks and Rec.
The Super Camper can attend all available weeks of Summer camp and this pass allows maximum flexibility in attendance.
Monday through Thursday after care is included for every week of camp. Please provide daily lunch and snacks for your camper.
Over $1,000 in savings!



CAMP:
MON - FRI:

9am - 3pm



$395/Week
(For ages 5 by Sept. 1st, 2017 to 13 years)
AFTER CARE:
MON - THURS: 3pm – 5pm
$80/Week
CAMP PASS:

$1,999 for ALL 7 Weeks

(includes after care)
DROP-IN:

9am-3pm
$105/Day
Please call 365-4700 or e-mail to check on availability for drop-in camp!
Scroll down to sign up!
Our CIT program allows athletes 12 - 15 years and older to work as Coaches-in-Training at our Middlefield summer camps!  Coaches-in-Training will work side by side with an experienced Bayshore Elite coach to learn proper spotting, class management techniques and leadership skills. CITs will also participate in lecture type lessons to discuss skills that make a successful coach. Free T-Shirt included. Please pack a lunch and snacks.
(Please let your leaders know if your schedule needs to be adjusted)
CIT PROGRAM

Mon-Fri:
8:45AM – 3:15PM
$95/Week
(For ages 12 - 15)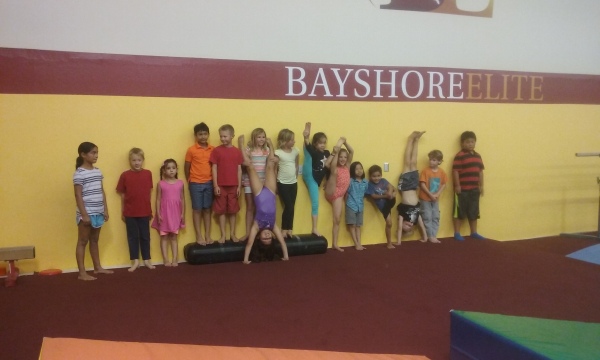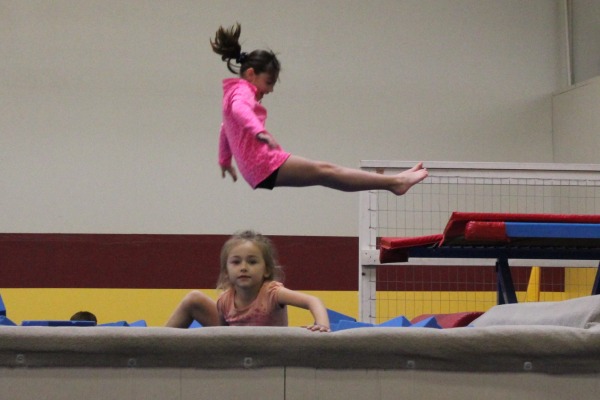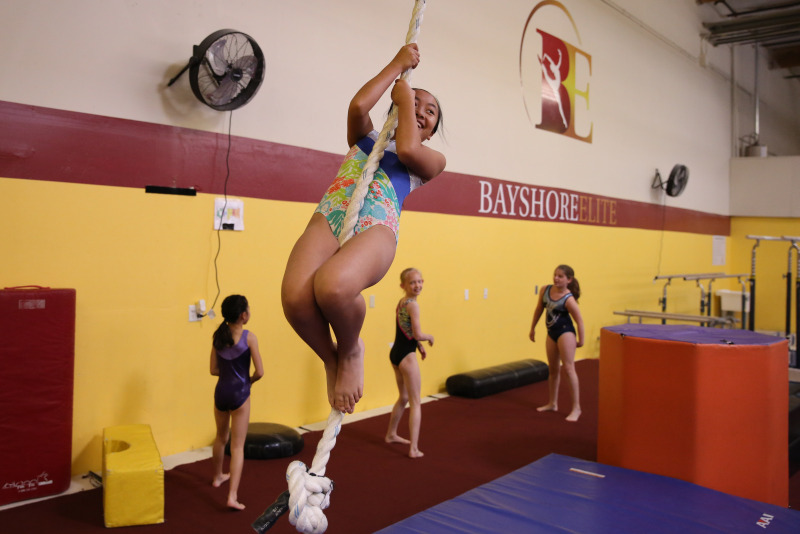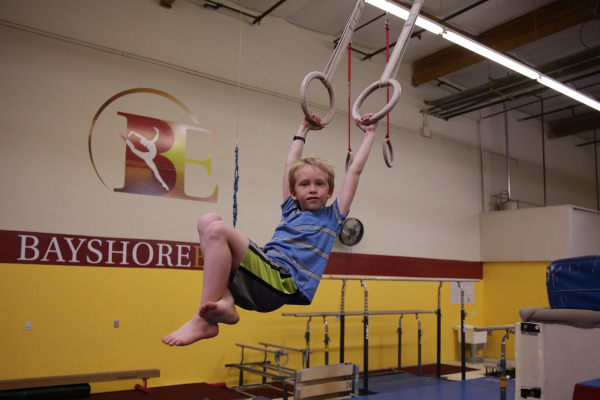 WEEK #1
JUN 12 – 16



"School's Out, Surf's Up"
During our first week, campers will learn
how to be safe when practicing skills in the
gym while celebrating the beginning of summer at BE gymnastics camp!
WEEK #2
JUN 19 – 23



"NO CAMP!"
WEEK #3
JUN 26 – 30
"Team USA"
Red, White and Blue! Let's show our love for our country this week while we practice our gymnastics.

INDEPENDENCE WEEK
JUL 3 – 7



"NO CAMP!"
WEEK #4
JUL10 – JUL 14
"Go Team"
Pro sports, college teams and Bayshore pride is what this week is all about it. Show off your team pride and your gymnastics skills!
WEEK #5
JUL 17 – 21

"Happiest Camp on Earth"
Princesses, princes and a mouse! Let's have some creative fun with gymnastics.
WEEK #6
JUL 24 – 28

"Under the Big Top"
Come join us Under the Big Top for some gymnastics as we become acrobats and ring leaders!

WEEK #7
JUL 31 – AUG 4

"Wacky and Wild"
Let's be silly! Dress ups, silly games and art projects to make you laugh along with lots of gymnastics this week.

WEEK #8
AUG 7 – 11

"In the Jungle"
Come hang out where The Gymnasts Are! Gymnastics in the jungle, nothing could be more fun!